Online Courses
Showing 1–11 of 12 results
Sale!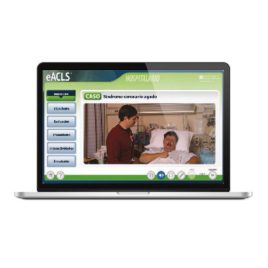 Online ACLS Spanish Interactivo Third Edition American College of Emergency Physicians (ACEP) Online Course Click on Picture to View Description of Course and Pay
ACLS interactivo es la versión  en idioma español del eACLS ACLS interactivo es un programa en línea dirigido a paramédicos, enfermeros, médicos y otros profesionales de la salud  que proporciona un enfoque con base en casos para la enseñanza del conocimiento avanzado y las destrezas que requieren para evaluar y manejar las urgencias respiratorias y cardiovasculares que ponen en riesgo la vida. Este programa está diseñado con el propósito de satisfacer todos los requerimientos de las autoridades reguladoras para perfeccionar el entrenamiento del soporte vital cardiovascular avanzado (ACLS, por sus siglas en inglés) de acuerdo con las Guías de 2010 para la ciencia de la reanimación cardiopulmonar y atención cardiovascular de urgencia. *El examen de destrezas prácticas en el sitio puede ser necesario. Perfecto para profesionales prehospitalarios o profesionales de la salud en el hospital que necesitan certificación o recertificación. Características del ACLS interactivo:
Actividades altamente interactivas que satisfacen los requisitos de aprendizaje para el entrenamiento en ACLS.
Créditos inmediatos en la educación continua luego de concluir de manera exitosa el curso en línea.
Aprendizaje en todo momento y en cualquier lugar –a su propio ritmo y en la comodidad de su casa u oficina.
$

161.95
Add to cart